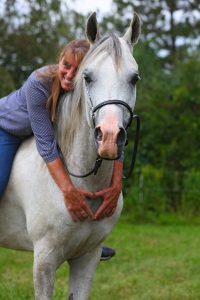 Shannon Weston – GLDRA Mentor
My name is Shannon and I'm a trail riding addict. I've been passionate about distance riding since I wore the shoes off my first horse back in 1980.  I've been a steady competitor (with life getting in the way sometimes) in Michigan distance rides for 35 years (gulp!).  Most of my experience and miles have been in Competitive Trail but I have done a fair amount of Endurance riding in more recent years. I am always trying to learn about horses and what makes them the healthiest and fittest they can be in order to easily and comfortably go down the trail for many years. My focus is not winning races but rather finishing each ride consistently with a happy sound horse who is ready and willing to go on!
I live in Howell with my husband Gary, our border collie Bailey and my two Arabians, Ollie and Poe.  I trail ride several times a week and will ride with anyone who wants to meet me at an area trail!  I love to talk to people about the sport of distance riding and am always willing to pass on what knowledge and experience I have. If you're interested in the sport but don't know where to start, or want to see how we train for the trail firsthand, feel free to contact me. I'd love to get you started by answering questions or just ride down a trail with you!