Great Lakes Distance Riding Association
2022 Annual Awards Banquet
This event takes place annually to reward the previous year's top competitors, plan for the upcoming year and where members vote on the club officers. This year's meeting takes place February 26, 2022 at the Doherty Hotel in Clare, Michigan. If you're a a member and curious to see what we do, we invite you to attend as it is open format. Please RSVP at bbirr@centurytel.net. There is no fee to attend.
Fortunately, this year's meeting has been arranged to fit into one day. This will enable participants to economize their time or stay the night to relax in the amenities of the hotel. GLDRA has a block of rooms at a discounted price for both Friday and Saturday nights; these rooms are discounted until January 26, 2022. Rates are as follow: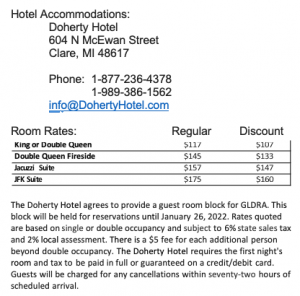 Itinerary of GLDRA Annual Awards Meeting
10:30 to Noon……Board Meeting (All are welcome to attend)

Noon to 12:45 PM……Lunch** (Food and beverages purchased by participant; provided by hotel)

12:45 to 2:15 PM……Endurance Riding with Barb Kurti presentation*

2:15 to 2:30 PM……Break

2:30 to 4:00 PM……General Membership Meeting

4:00 to 4:30 PM……Brief New Board Meeting & Break

4:30 to 5:30 PM……Awards

5:30 to 6:30 PM……Dinner & Social Hour** (Food and beverages purchased by participant; provided by hotel)

6:30 to 7:00 PM……Closing & Clean up.
Due to time constraints, unfortunately there will not be a silent auction this year.
*Presentation will begin promptly at 12:45
**Note: The Doherty must provide all food and beverage consumed on the premise.