29aprAll Day30Cedar Crossings Mock Ride
Event Details
APRIL 30, 2022
Cedar Creek Crossings and Traverse Bay Pony Club invite you to participate in the 5th Annual Distance Ride 2022!
This is an introduction to competitive and endurance distance riding. All levels of riders are welcome. The event begins Friday night with a lecture on distance riding and early vet in. The ride starts at 9am on Saturday morning. All horses will receive pre, mid and post ride veterinary checks. This is not a timed race, but a mock distance trail ride. A limited number of stalls and unlimited small paddocks are available on a first come basis. Rough camping is also available on site.
The cost is $75 for ages 17 and over; $50 for ages 16 and under, 4-H, and Pony Club Members. Please register online at: Sign Up Genius. If paying by check, please make them out to: Barb Kurti, and send to 319 Quincy Street, Grandville, MI 49418. Registration includes: lecture, dinner, ride, vet checks, brunch and more!
If camping please contact Jill at Cedar Creek Crossing LLC, 231-645-4643 or e-mail at jillbyard@cedarcreekcrossings.com. Prices for accommodations are listed as:
Stall: $40

Rustic Camp Site: $20

Outside pen: $20
Please pay Barb for the clinic/ride and Jill for accommodations separately.
FRIDAY, APRIL 29, 2022:

4-7pm – Check in and set up

7pm – trailers arrive

7pm – Lecture & early vet checks
SATURDAY, APRIL 30, 2022

8 am – Pre-ride vet checks begin

9 am – 10 mile Mock Distance Ride begins

11 am – Post-ride vet checks begin

2 pm – Clean up & awards
Rules: Safety helmets required for youth, encouraged for all. Dogs are not allowed on trails. Coggins Test required for all horses. UMECRA Rules apply. The ride takes about 2.25 hours at an average pace of 5pmh.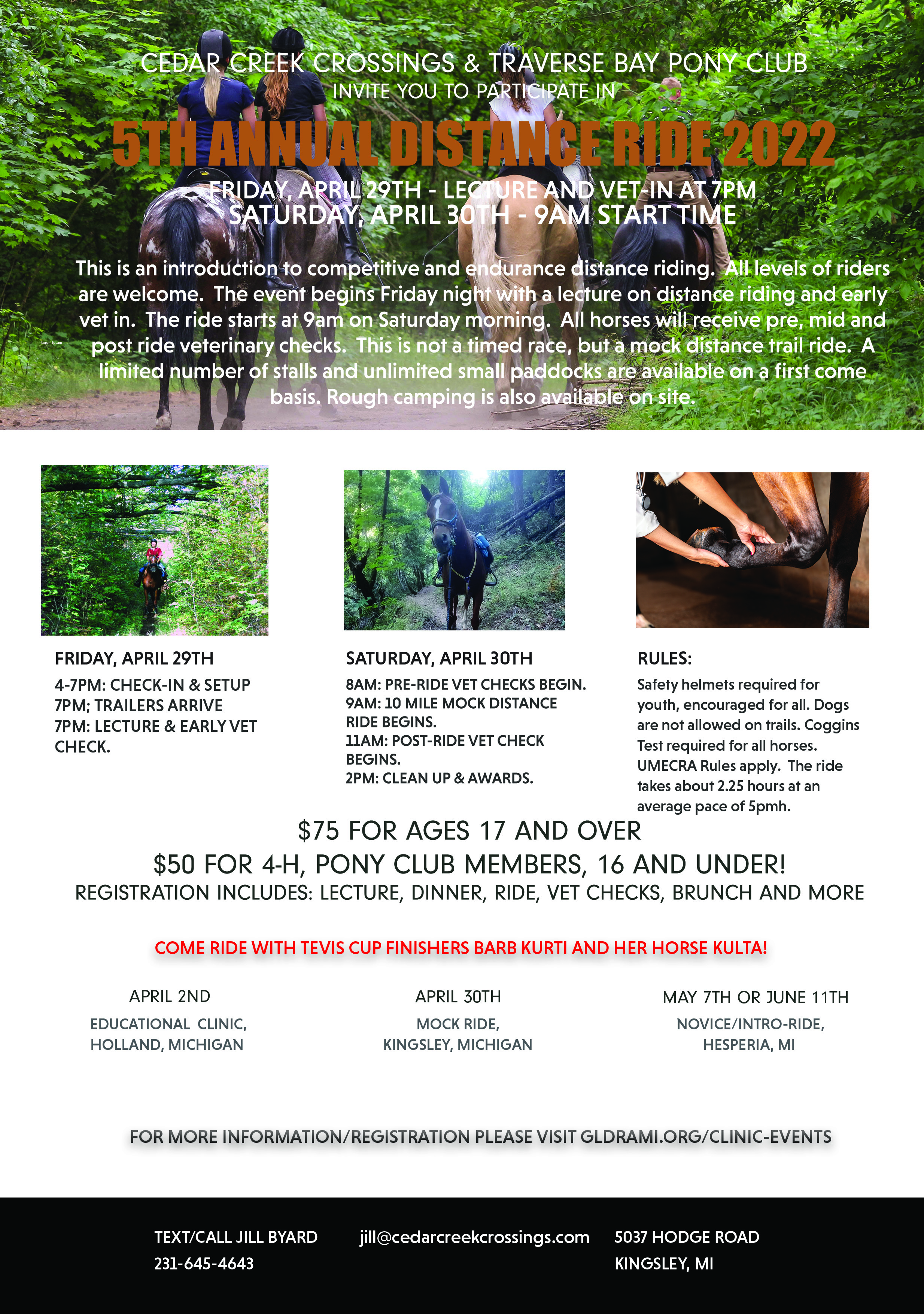 Questions/Information? Contact Jill Byard via e-mail or call/text 231-645-4643.
Cedar Creek Crossings is located at 5307 Hodge Rd, Kingsley, MI
Download the flyer here: Kingsley Cedar Crossings Mock Ride.
Time

april 29 (Friday) - 30 (Saturday)