16julAll DayBrighton Distance Riding Clinic Part 1: SOLD OUT
Event Details

Distance Riding Clinic Part 1: Classroom Presentation
Hosted by Lisa Germann of Blue Sky Farm.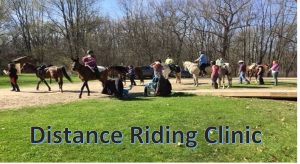 (Includes Information about Part 2 of the Clinic)
In order to participate in the Mock Ride you MUST print out and bring to the ride, e-mail a photo, or text photo of the Mock Ride Agreement form to Mock Ride Manager. Contact details are listed below. Continue reading to find them.
DOWNLOAD MOCK ENTRY AGREEMENT HERE
Part 1  SOLD OUT
What: Classroom presentation of all you need to know about distance riding in the comfort of an air-conditioned meeting room, without the distractions of weather and bugs 😊. Distance clinic being presented by Lisa M Germann, manager of the Brighton CTR ride (over 20 years)  and an experienced Endurance & Competitive Trail Rider with 39 years of experience and over 9,000 competition miles.
When: Saturday, July 16th. Starting at 11:00 am, will break for lunch if necessary.
Where: to be held at the Brighton Holiday Inn, South, 6910 Whitmore Lake Road, Brighton, MI 48116

Water & snacks provided. In close proximity to many fine eating establishments.
Cost: $35.00.  Pre-Entry Only.***
Part 2 LIMITED AVAILABILITY
When: Saturday, August 20th. Begins at 10:30am
What: Distance Clinic – Mock Ride.
Where: Brighton Recreation Area, Equestrian Staging Area.  6360 Chilson Rd, Howell, MI 48843

Water & snacks provided

The mock ride will consist of a 7-8 mile mock ride. Each rider will go out on trail with an experienced distance rider (in groups no bigger than 3).  Each clinic participant will be walked through the entire ride process from Vetting-In their horse, to riding the trail, and Vetting-Out their horse at the end. 
Cost: $60.00. Pre-Entry Only***
***Discounted price for a Pre-Entry for both Classroom & Mock Ride Clinics $80.00
Participants can attend either or both of these events.  The classroom portion is scheduled a month before the Mock Ride to give those who wish to participate in the Mock Ride preparation time to get out and ride their horses.  The clinics will cover Endurance Rides & Competitive Trail Rides.
Attendance for both Part 1 & Part 2 is strongly suggested as this will give you the entire Distance Experience.  For those who wish to practice camping with their horses, the clinic manager will be camping at Brighton Equestrian Campground the weekend of the Mock Ride.  However, reservations and site selection are entirely up to the participant.  Reservations for the equestrian camp can be made at Michigan.gov. or 1-800-44-PARKS (1-800-447-2757).
Helmets are not required for adults,  however they are strongly suggested.
** Please note Michigan DNR Motor Vehicle Permit is required for staging & camping area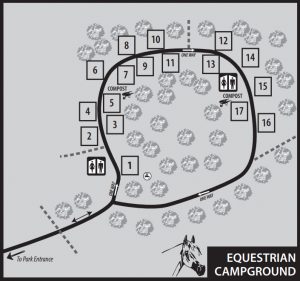 ALL DOGS MUST BE CONTAINED OR ON A LEASH AT ALL TIMES
ALL JUNIOR RIDERS ARE REQUIRED TO WEAR A HELMET
Negative Coggins Test required for Mock Ride dated no earlier than 8/20/21.

To Pre-Enter Please contact the Clinic Manager:
Lisa M Germann
Text: 734-748-0425
Email: BlueSkyFarmLG@comcast.net
Part 1 of Distance Riding Clinic: Classroom Presentation
Part 2 of Distance Riding Clinic: Mock Ride